BECOME A PROFESSIONALLY TRAINED LCHF/KETO ADVISOR TODAY

Are you a keto enthusiast wishing to upskill and acquire a professional training in Keto/LCHF nutrition coaching?
Then you're at the right place!

Learn essential coaching skills from an ICF accredited coach and help your clients make meaningful and lasting change
Access expertly curated science and research
Get access to a toolbox of resources designed to help you kick start your coaching business
Become a part of a growing network of like-minded healthcare practitioners and coaches
Gain access to our private member's forum and receive a listing on our website's wall of practitioners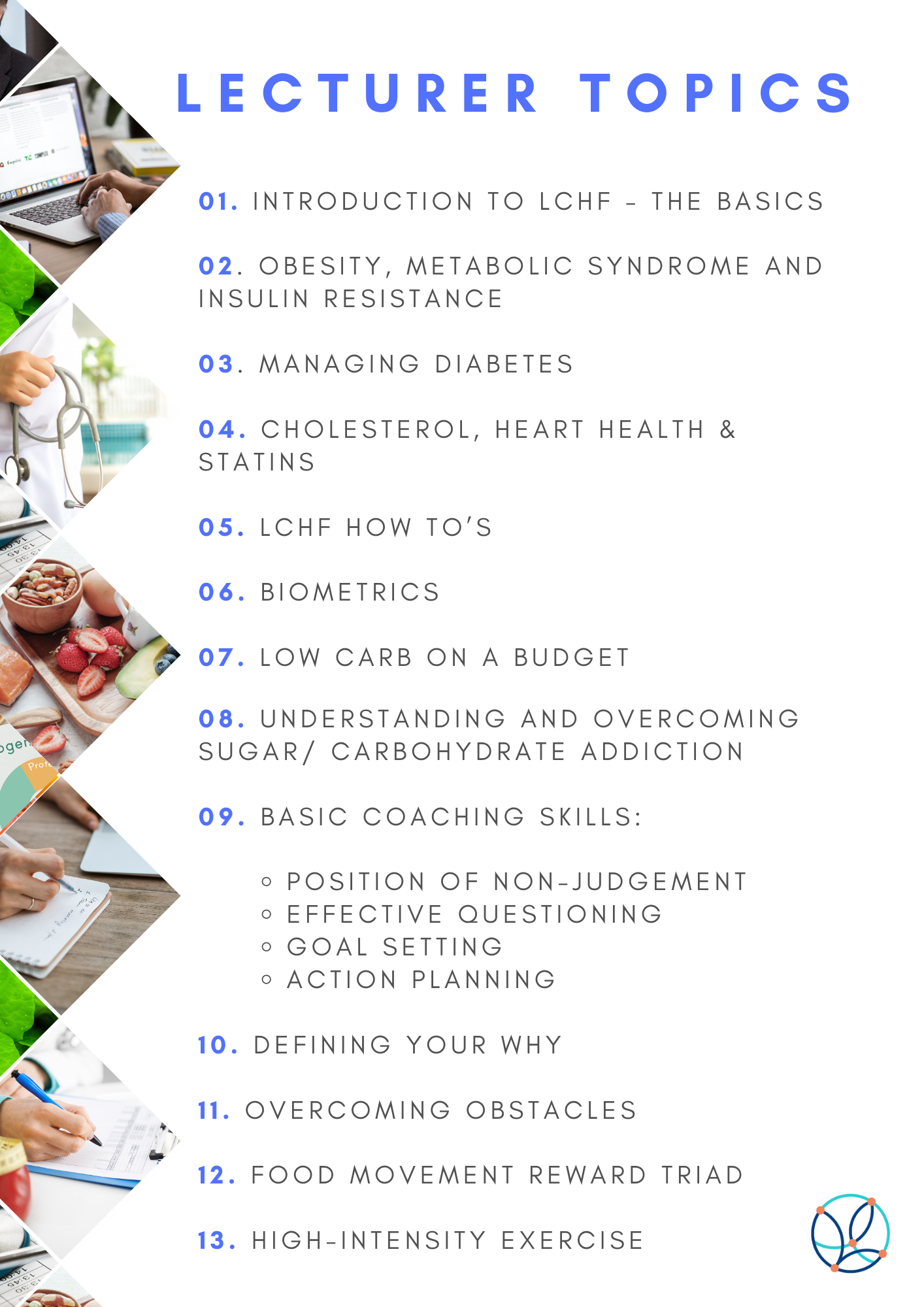 ABOUT THE TRAINING


The training is presented by leading experts in their fields. From world-class scientists, specialist doctors, academics, ICF accredited life coaches, and internationally renowned motivational speakers, the course is jam-packed with outstanding educational content. 
The course is presented as a series of online, self-study, learning modules.
Each module includes:
Topic outline, learning objectives & study overview
Expert speaker presentation/lecture
Downloadable references for relevant journal articles and literature
Who should do the course? Are you someone who..
Has a passion for nutrition and helping others to change their lifestyle?
Has a deep desire to change people's perceptions of health?
Has a passion for inspiring others, motivating them to attain their health and body goals?
Wants to turn your passion into a job/ career, earning an income while you do it?
Want to qualify to do advanced trainings in LCHF and join a global network of healthcare professionals?
Then this training is for you!

On completion of the training, you will be issued with Certificate of Completion. You will also be listed on the Nutrition Network Wall of Practitioners and will be eligible to enrol in any of the Nutrition Network advanced trainings.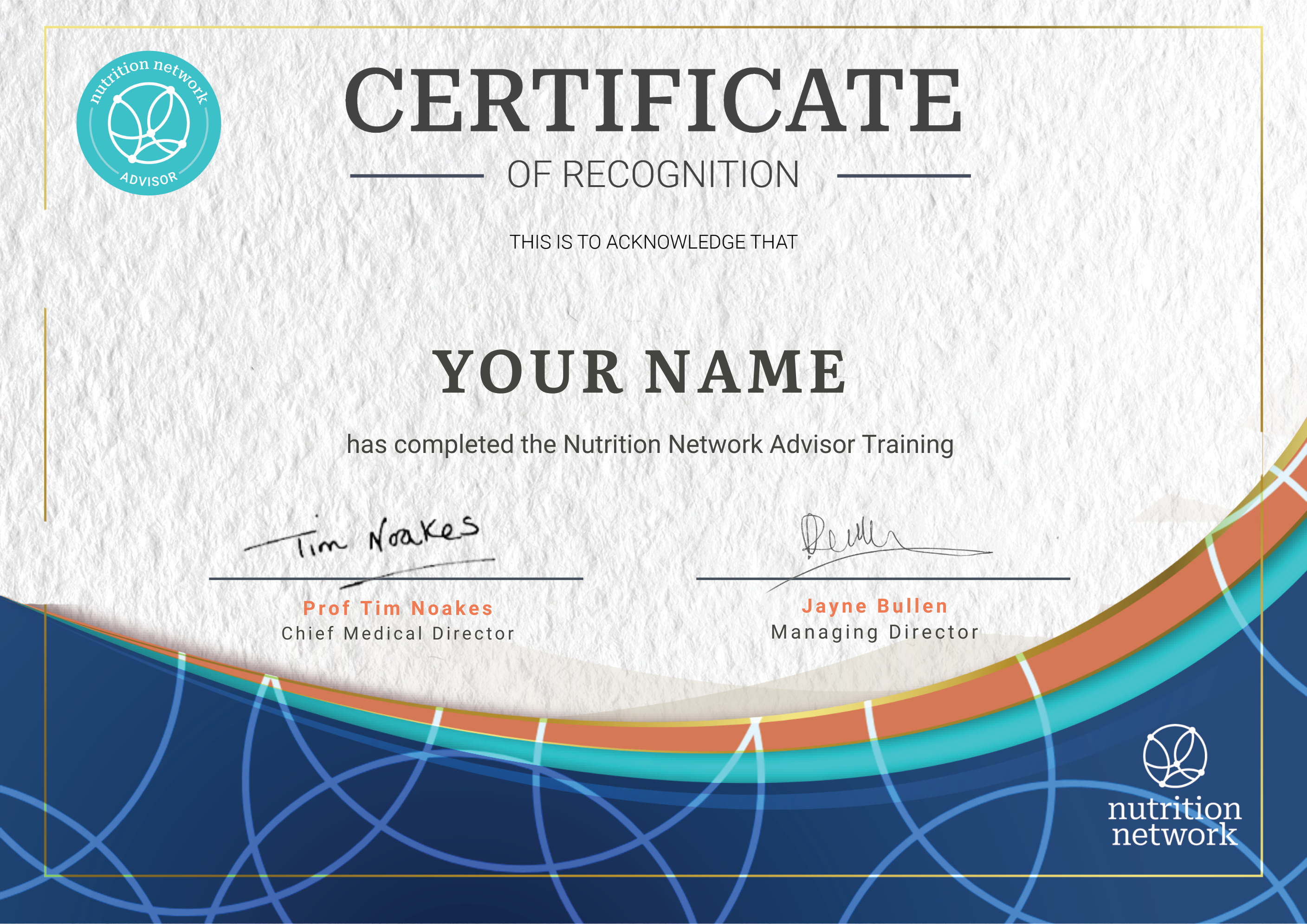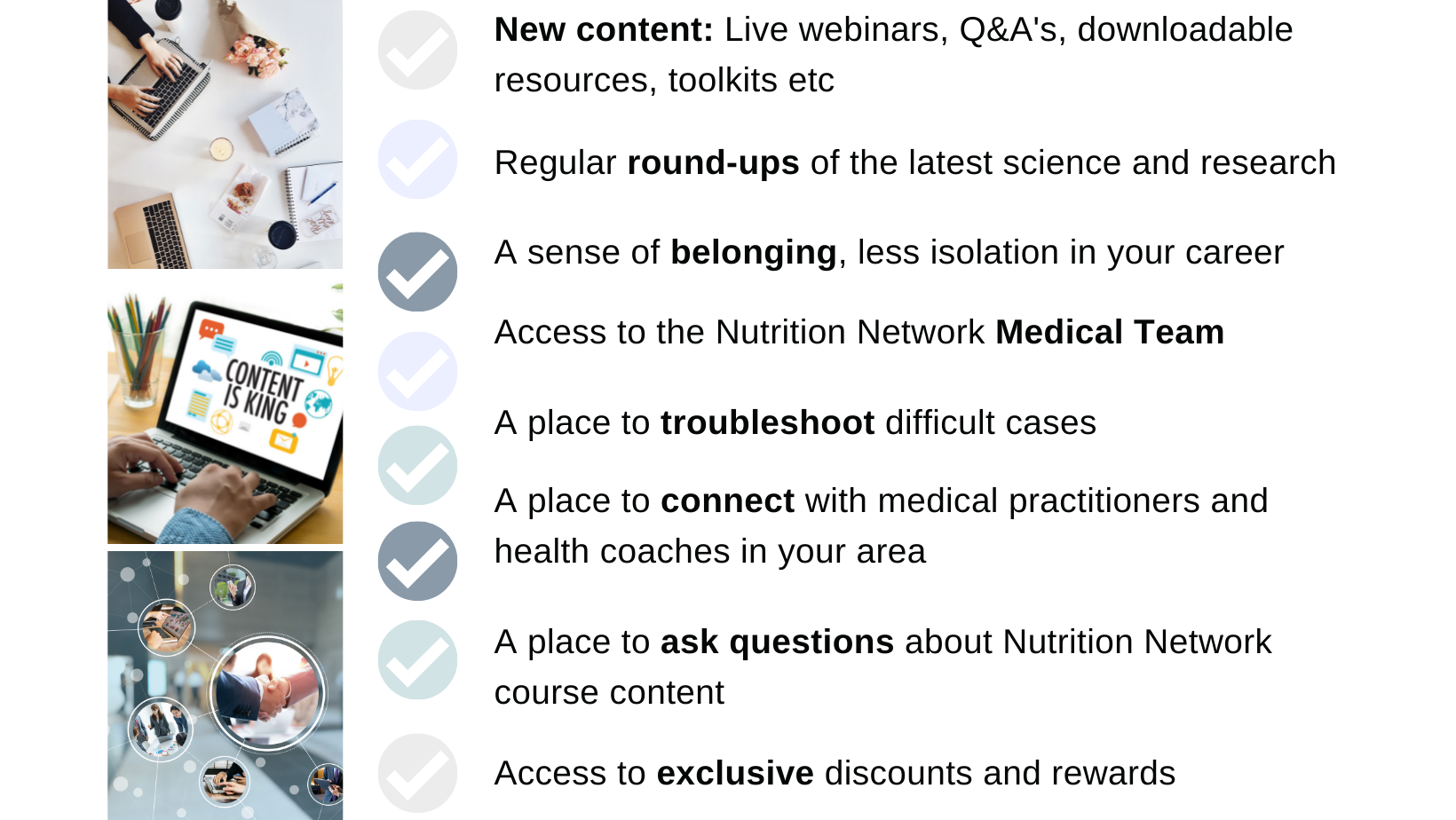 Our Private Community to Help Support Your Learning

When you enrol in any of the Nutrition Network courses, you gain access to our private member's community. Here you can engage with the Nutrition Network Medical Advisory Board, your course lecturers, Certified Practitioners and other members.
Frequently Asked Questions

When does the course start and finish?
You have 3 months to complete the training. You may start at any time, and work through the content completely at your own pace, as long as you finish within the 3 month time frame.
What if I am unhappy with the training?
We would never want you to be unhappy! If you are unsatisfied with your purchase, contact us in the first 30 days and we will give you a full refund. Please note that a refund will only be issued if 30% or less of the Training has been completed.
This policy excludes Bundle Purchases. We do not issue full refunds on Bundle Purchases.
Do I have to be online at a specific time?
You can work through the course content completely at your own pace. You don't need to be online at a certain time, and can complete the lectures in your own time.
How many hours of learning is the course?
The course is approximately 20 hours of learning, in the form of video lectures with supporting documents. Reading of the referenced literature is in addition to this time commitment, if and when you choose.
What kind of content is the curriculum?
The course is made up of video lectures with supporting documents such as the speakers PowerPoint presentation, reference list, and in some sections, a case study to demonstrate practical implementation of the learning presented.
Does the course provide a certification?
You will be issued with a Certificate of Completion at the end of the course.
Who is eligible to enrol in this training?
Anyone who has a passion for health and nutrition can enrol in our training!
How is this different to the other Nutrition Network trainings?
You do not need to be a medical professional to enrol in the Advisor Training, whereas the other Nutrition Network Trainings have been designed exclusively for medical practitioners. The Advisor Training is separated into scientific and coaching modules, covering all the information needed to kick-start your Nutrition Advisor career
Do South African citizens receive a price in ZAR?
Yes, South African citizens are offered a ZAR price. Please email [email protected] for more information on how to pay in ZAR.
Will there be any support from the lecturers or Nutrition Network medical team during the course?
Definitely! You will be provided with a link to join our private online Community for members - this is moderated daily by our experts. Here you can ask course-related questions, keep updated with the latest low carb science, troubleshoot difficult cases, or just network and engage with fellow members.



Check your inbox to confirm your subscription