Nutrition Network's Advisor Training is for low carbohydrate enthusiasts wishing to upskill and acquire a professional training in Keto/LCHF nutrition coaching, this training focuses on the science as well as essential coaching skills needed to coach your clients/patients through their dietary transition.

The training is presented by leading experts in their relevant fields. From world-class scientists, specialist doctors, academics, ICF accredited life coaches, and internationally renowned motivational speakers, the course is jam-packed with outstanding educational content.
A combination of scientific and coaching modules, covering all the information needed to kick-start your Nutrition Advisor career. Additional reading materials are supplied should you wish to further your knowledge. The scientific modules provide a sound, foundational knowledge base of LCHF nutrition as supported by the latest, most up to date international research. The coaching module provides complimentary coaching and motivation-driving skills presented by leading experts.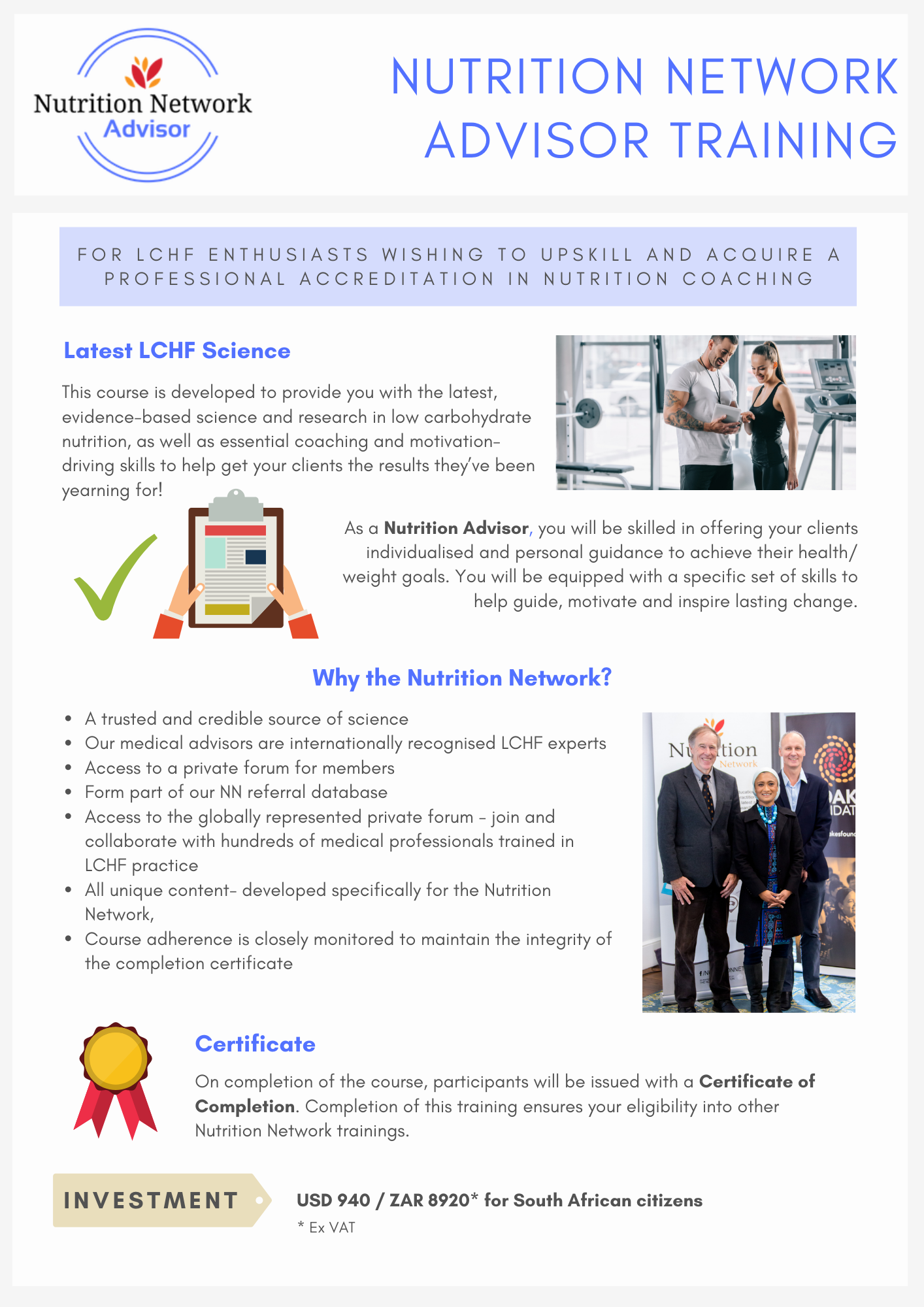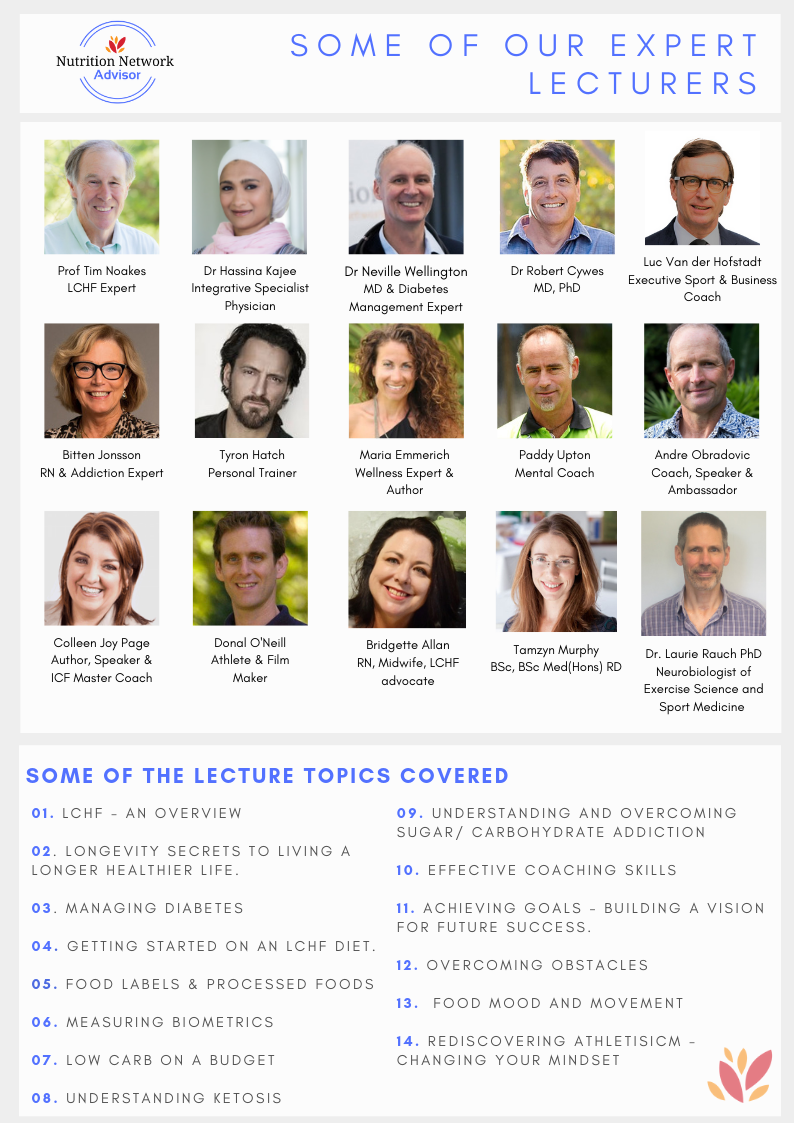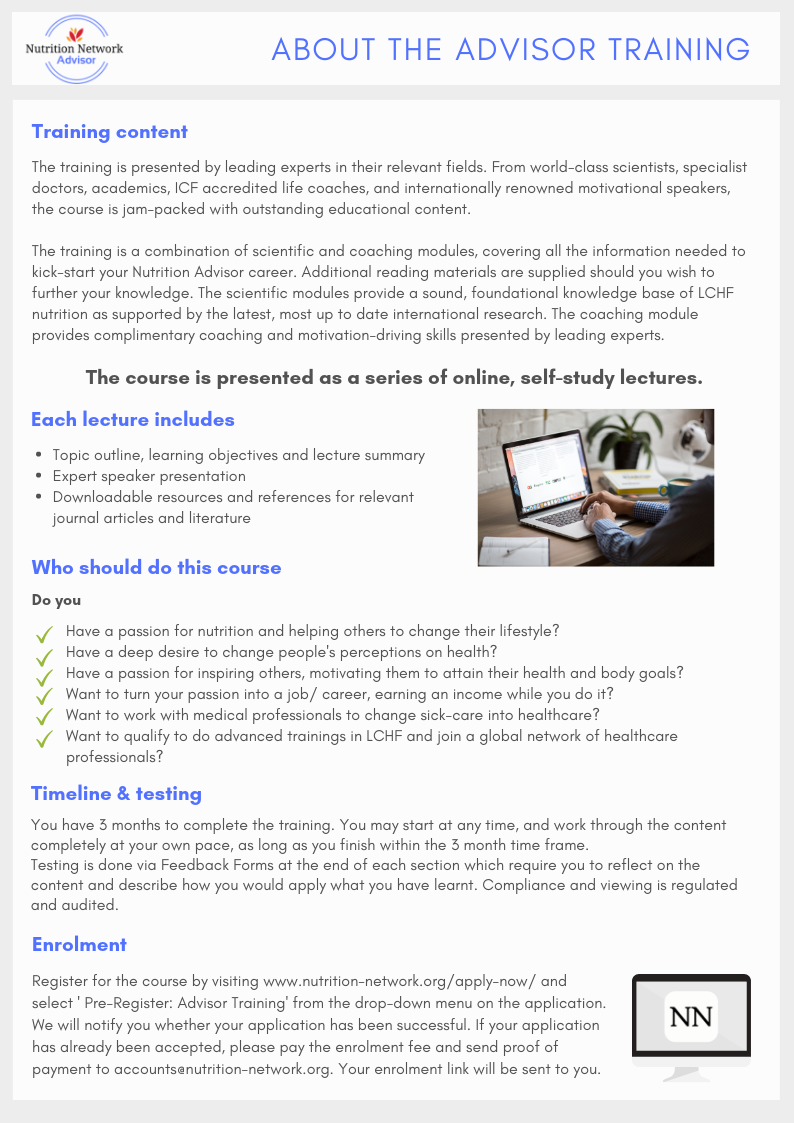 As a Nutrition Advisor, you will be skilled in offering your clients individualised and personal guidance to achieve their health/ weight goals. You will be equipped with a specific set of skills to help guide, motivate and inspire lasting change.

Your Instructor

The Nutrition Network is an education and learning platform, designed to present the most up-to-date and evidenced-based science and research available, in the field of low-carbohydrate, healthy high fat nutrition (LCHF). Founded by The Noakes Foundation, and in partnership with their extensive national and international network of doctors, scientists and researchers, the platform is aimed at medical and allied health care professionals across the globe, to inform and support their knowledge of the LCHF diet and its implementation into clinical practice.
Frequently Asked Questions
When does the course start and finish?
You have 3 months to complete the training. You may start at any time, and work through the content completely at your own pace, as long as you finish within the 3 month time frame.
What if I am unhappy with the course?
We would never want you to be unhappy! If you are unsatisfied with your purchase, contact us in the first 30 days and we will give you a full refund.
Do I have to be online at a specific time?
You can work through the course content completely at your own pace. You don't need to be online at a certain time, and can complete the lectures in your own time.
How many hours of learning is the course?
The course is approximately 20 hours of learning, in the form of video lectures with supporting documents. Reading of the referenced literature is in addition to this time commitment, if and when you choose.
What kind of content is the curriculum?
The course is made up of video lectures with supporting documents such as the speakers PowerPoint presentation, reference list, and in some sections, a case study to demonstrate practical implementation of the learning presented.
Does the course provide a certification?
You will be issued with a Certificate of Completion at the end of the course.
Who is eligible to enrol in this training?
Anyone who has a passion for health and nutrition can enrol in our training!
How is this different to the other Nutrition Network trainings?
You do not need to be a medical professional to enrol in the Advisor Training, whereas the other Nutrition Network Trainings have been designed exclusively for medical practitioners. The Advisor Training is separated into scientific and coaching modules, covering all the information needed to kick-start your Nutrition Advisor career
Do South African citizens receive a price in ZAR?
Yes, South African citizens are offered a ZAR price. Please email
[email protected]
for more information on how to pay in ZAR.
Will there be any support from the lecturers or Nutrition Network medical team during the course?
Definitely! You will be provided with a link to join our private online Community for members - this is moderated daily by our experts. Here you can ask course-related questions, keep updated with the latest low carb science, troubleshoot difficult cases, or just network and engage with fellow members.